16th Streatham Common Kite Day
The 16th Streatham Common Kite Day will take place on Sunday 6th April 2014 from 11am to 5pm. Please check back here soon for more details of the day's events.
We will be featuring:
If you don't have a kite you'll be able to buy one on the day from Windrush Kites. And Ramnath Pupkin of Hanuman Kites will be selling the Smallest Kite in the World and other kite things.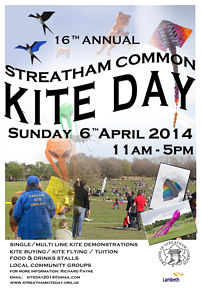 Food and other non-kite things will include:
Burger Van
Jerk Chicken
Hog Roast
Beer Tent
Crazy Crepes
Ice cream van
Coffee van
Fish Tale
Bouncy Castle
Face Painting
Dr Bike
Local community stalls
Download a copy of the 2014 poster:
Review of last year's Kite Day
The 15th Streatham Common Kite Day was postponed from its original date of 7th April due to a waterlogged venue and was held in June for the first time.
Stephen Hodges' Bird Kites
The day had mixed weather, starting cloudy but with a brisk 12mph breeze. This got lighter during the day, dropping to less than 5mph by the end of the afternoon, making it difficult for some of the kite fliers. But at least by then the sun was shining.
Team Spectrum pulled out all the stops to do their very best in the conditions, and when the wind did come up the sky was instantly filled with a wonderful display of kites. Visual treats included Stephen Hodges' bird kites and the flying of a large Nasa wing. Luckily we had a large contingent of Indian kite flyers who were also able to fly in the very light winds. Roy Reed provided a show of expert trick flying which went down very well.
Cascade Kites and Brighton Kite Fliers both put on a great display of their large show kites. And as it was Father's Day there was a display of dads and children flying a range of kites in the arena.
We had plenty of food stalls, gazebos and displays relating to local matters to keep people interested while enjoying the sunshine – and waiting for the wind to come up. Dr Bike who, came for the first time,were busy with on the spot maintenance and advice, and are coming back next year as well.
There are photos of the 2013 Kite Day in the gallery, together with an archive of earlier photos and posters.