19th Streatham Common Kite Day
The 19th Streatham Common Kite Day will take place on Sunday 14th May 2017 from 11am to 5pm.
This list is provisional, and will be updated as more people confirm.
We will be featuring:
Flying Fish – pairs kite flying
Nasaman and human lift powerkites
Hanuman Kites
And members from: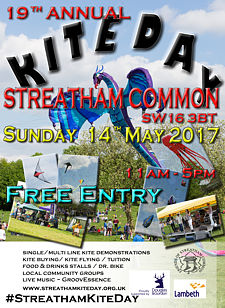 Download a copy of the 2017 poster:
There are photos of the 2016 Kite Day in the gallery, together with an archive of earlier photos and posters.